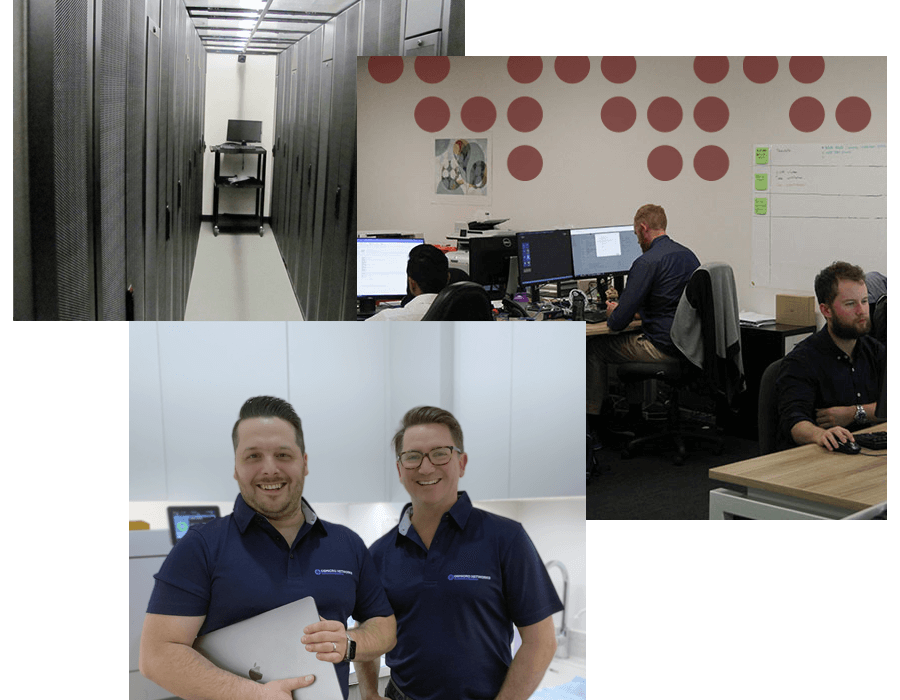 Osmicro Networks is a dedicated technology service provider committed to meeting the evolving IT demands of Australian SMBs. Our team of technology experts is led by our multifaceted business experience in the fields of IT and cyber security, and holds the talents and skillsets needed to provide creative solutions to complex IT challenges. Osmicro Networks has been serving clients for over 15 years, and during that time, we have established a reputation built on trust, integrity, exceptional service, and above all, successful results.
We have an in-depth understanding of the challenges that Australian SMBs face in their day-to-day business operations, which are greater than ever before due to the growing threat of cyberattacks. Our value-driven IT solutions are designed to build stronger and more efficient teams, while giving SMBs a reliable source for all-in-one technology solutions and security risk mitigation.
BOOST PRODUCTIVITY WITH AUTOMATED IT SOLUTIONS THAT IMPROVE YOUR WORKFLOW
When you achieve the right IT strategy, you won't believe the difference it can make to your bottom line. Your teams can work smarter, not harder, with automation that alleviates the burden of repetitive tasks, resulting in optimal resource allocation.
Improved automation can optimize the product development lifecycle, shorten time to market, and allow your teams to achieve efficient collaboration and superior performance levels. Get on board to build and maintain a competitive edge.
PROTECT AND PRESERVE YOUR MOST VALUABLE BUSINESS ASSETS
You've heard it before – the best defence is a great offence.
A defined and well-executed security strategy is a critical component in today's business environment. Build your front-line offence with our cyber security products and services, including Cybersuite 360, designed to protect SMBs against catastrophic data loss and security breaches. This all-in-one security system is included with all managed services, and can also be purchased as a separate package.
managed services
Reduce your organisational costs, improve productivity, and increase automation, all while enjoying seamless continuity of business operations. Hand over your technology landscape to us to ensure data security, IT network customisation, and reliable managed services 24/7.
Cyber security
Cyberthreats are growing by the minute, and hackers are getting smarter, bolder, and more persistent. Discover how Cybersuite 360 can power up your business and prevent catastrophic cyberattacks.
cloud and hosted solutions
Cloud computing provides instant access to shared data in one centralised location from anywhere, at any time, on any device. Ideal to support a modern hybrid workforce, the cloud ensures top-tier security and data encryption to prevent unauthorised access.
healthcare it
To increase efficiency of your healthcare practice, trust us to implement IT solutions that ensure patient confidentiality, secure data storage, and optimal staff productivity. You'll also benefit from our best-in-class technology support to prevent disruptive network downtime.
1
Let's Talk
We'll chat about your business, your frustrations, and your existing technology systems, as we work to discover your present and future IT goals.
2
Professional Assessment
We'll schedule a free onsite assessment to determine the current state of your technology integrations and identify your existing level of security exposure.
3
Custom Service Plan
Based on our assessment report, we'll discuss the best way to achieve your IT objectives with the right combination of services tailored to your goals.
Any Questions?
REQUEST A CALLBACK
Get in touch with us if you have any questions, need a quote or want to work with us.
Suite 120, 1/44 Mountain Street, Ultimo NSW 2007